I wrote this letter in hopes to include it in my 1000 letters project for this year. I wrote it back in June and then July flew past my with Vacations and moving and starting my new job in August has over whelmed my life…so. Better late than never he is a re-cap on our first year of marriage.
Dear Friends and Family,
As Will and I pass our 1 year wedding anniversary I thought it would be fitting to send you all a letter of this year's adventures and what we have been up to this past year!! We don't expect you to reply to this letter but if you want to let us know how you have been doing this year we would love to hear from you as well!!
As you know we went to Cancun for our honeymoon and had a blast! We got to snorkel, take a bike tour of the city, lay in hammocks while watching dolphins, eat sushi, see the Mayan ruins (highly recommend) and even had a mini photo session. We had so much fun spending the day together swimming or out on an adventure then getting all dressed up and night and eating at one of the many amazing restaurants at our all inclusive resort. (Dreams Cancun)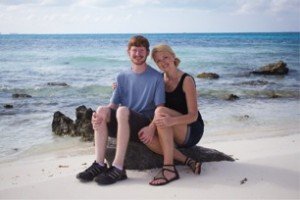 We have been living in a 1 bed 1 bath apartment close to Oklahoma Christian University, where Will works, and it has been fun to be able to use the walking/biking trail at OC, and be so close to Will's work! We are going to be even closer starting in July! We will be moving to an apartment on campus, where I got a job as a Resident Director! I will be in charge of three buildings full of upper-class men and women. I'm excited and blessed that God has provided this job for us. This will allow us to live in the apartments at the University for free while I work there.  We are excited about this new adventure and the opportunities it will provide us.
I will continue my photography business and have several weddings that Will and I are looking forward to shooting together!! I've really grown in my business this year.  I love working with Brides and providing the best service and products to my clients. This is my passion and I'm so blessed to have the support and opportunity to make this a lifelong career.
This year Will and I have been working hard to pay off debt and have a budget every month. This has been challenging as well as a great way to start off our marriage. We are learning together about money management for a new business and for our everyday needs as well as saving for our future!!  We have been blessed with good influences in our lives and a mindset to focus on the future. God has always provided exactly what we need!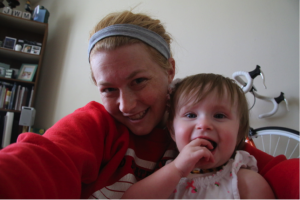 We have been able to spend a lot of time with both of our families this year. Especially our niece Makinzie who lives a short 10-15 min away!! It's been such a blessing to see her grow! Will loves changing her dirty diapers when she comes over… (ok not really, we are still working up to that haha.) We do enjoy Anna, Nathan and Makinzie being so close.  Will and Nathan even got to run in the Memorial Marathon together this year! It was Will's 5th Half Marathon and Nathan's 1st. It's been fun to do things with them this year.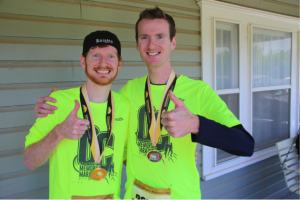 Other little happenings…
We have been learning to cook lots of new and healthy meals. It's been a fun adventure to cook every night for dinner. One of our favorite meals is spaghetti squash!
We cut down our first Christmas tree!! Read more about our Christmas tree hunting adventure on our blog http://the2ofus.mcbroomfamily.com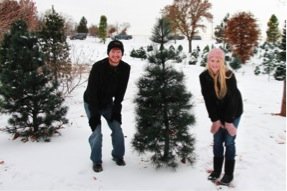 I made Will an "Amazing Race" for Christmas. He had to find clues and figure out where we were going, just like the T.V. Show The Amazing Race (if you have never watched it, check it out on Hulu). We like the oldest seasons the best.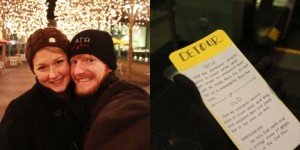 We like to act like kids every once in a while… and watch movies under a tent we built in our living room.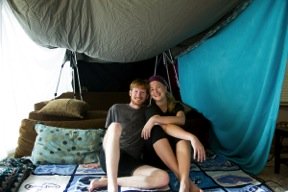 We have had some fun with film cameras: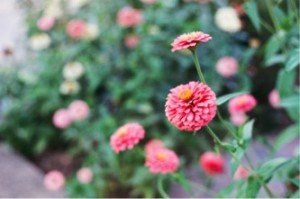 Easter at my parents' house this year: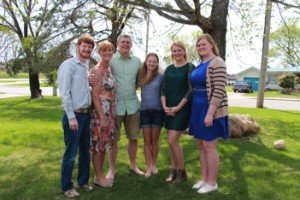 We have really enjoyed married life and are so thankful and blessed by all of our friends and family who have supported us from the beginning. We want to thank you for your prayers and love that you have shown us this year and last year as we were preparing for married life. We treasure your prayers and support as we continue to seek the Lord's will in our lives and strive to represent him in our marriage. Thank you again for coming to our wedding/sending us cards/ wedding shower gifts/ love from afar/ and all of your thoughts one year ago as we were just starting out on the lifelong journey.
Some of our favorite places to eat and things to do include: (Come to Oklahoma and we would love to show you around!)
Yuja lemon blend tea at All About Cha
Window shopping at Classen Curve/ whole foods
Riding our bikes on the OC trail
Sushi at Ninja
Walks and Frisbee at Mitch Park
Thunder games
Uptown Grocery (Graters Ice Cream)
Scrapbooking (me)
Reading to each other on long road trips
 Adventures to Red Rock Canyon/ Hiking
Hanging out with our Niece
Making silly videos
 T.J. Maxx, LOFT, Hobby Lobby (in that order) HAHA!
Tennis
Running
Shooting weddings together
Watching The Amazing Race
And just being together….awww 😉
Follow more of our adventures and photos on our blog: http://the2ofus.mcbroomfamily.com
Sincerely,
Jessica and William McBro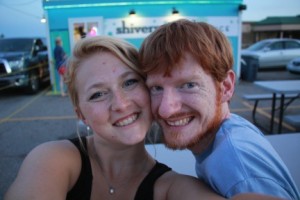 Numbers 6: 24-26
'May the Lord bless you and protect you.
 May the Lord smile on you and be gracious to you.
 May the Lord show you his favor and give you his peace.'